Stephanie Ewen, MF, R.P.F., Manager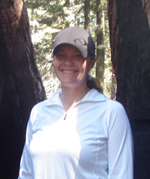 Worked as planner and silviculture forester at AFRF for 2.5 years prior to becoming manager in 2018.  Trained in forest management and analysis in British Columbia and Quebec, and has over 10 years in experience as a forestry consultant in BC.  Offers a diverse suite of knowledge and experience in forestry, tourism, and academia.
Don Skea, R.F.T., Operations Supervisor 
More than thirty years of experience in forestry operations (at AFRF since 1994), with particular strength in road construction and maintenance, forest health issues, harvest contract administration and fire fighting and fuel management. Experience with logging contractors and market logging directly translates to new harvest methods and products.
David Hamilton, MGEM, BSF (Forest Resource Management), FIT, Assistant Operations Supervisor
Kylie Green, B.A., Manager of Administration
Kylie has been the Manager of Administration for AFRF since 2015 and has over a decade of administrative experience. She is responsible for all aspects of administration at the Alex Fraser Research Forest, including financial, physical & human resources.